Thrifty Homeschoolers uses affiliate links within its posts. You may read more on our disclosure policy.
FREE offers are guaranteed FREE at the time of posting. Offers change quickly and often without warning. Please verify the offer before claiming or purchasing. We cannot be held responsible for price changes.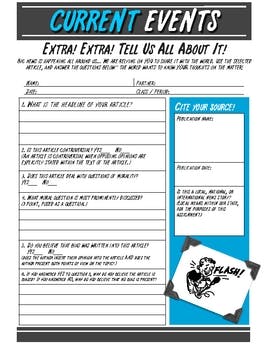 With all that is happening around the world right now, students are hearing more and more about current events. Whether local or international, these worksheets contain questions that can accompany any current events news article.
Students may select their own article, or teachers can print the article they wish to have the students evaluate. This exercise helps students identify the main issues of a news article, the moral question of the article (if present), as well as to consider any possible bias in the writing of the article. And concludes by asking students to share their own opinions on the article discussed.